Long Beach Airport (Long Beach) Crewbase
Long Beach Airport, also known as Daugherty Field, is one of the focus airports of JetBlue and currently serves as an alternative airport to Los Angeles International Airport in serving the city of Los Angeles and Orange County. With the arrival of JetBlue Airways at Long Beach Airport in 2001, and the airline's decision to establish a West Coast hub at Long Beach Airport, Long Beach has substantially increased the air traffic to the airport.
The city of Los Angeles is the second most populous city in the United States and has a rooted history. Nicknamed the City of Angels, Los Angeles is a leading world center of business, international trade, entertainment, culture, media, fashion, science, sports, technology, and education, and has been ranked the third richest city and fifth most powerful and influential city in the world. The Long Beach Airport is certainly a perfect center for JetBlue's operations.
Crewbase Management
Long Beach Crewbase NOTAM
Monthly Required PIREP
Just a quick reminder that every pilot on the roster are required to file (1) PIREP monthly.
Long Beach Airport Information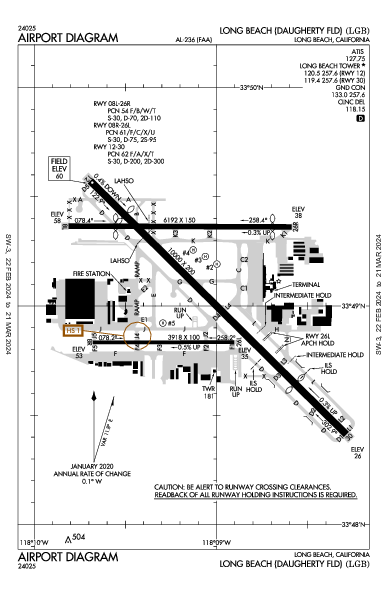 Departure Procedures
ANAHEIM THREE - 1 / 2
SENIC ONE (RNAV) - VIEW


IAPs
ILS OR LOC RWY 30 - VIEW
RNAV (RNP) RWY 12 - VIEW
RNAV (RNP) RWY 25R - VIEW
RNAV (RNP) Y RWY 30 - VIEW
RNAV (GPS) Z RWY 30 - VIEW
VOR OR TACAN RWY 30 - VIEW
ARSENAL VISUAL RWY 30 - VIEW
LA RIVER VISUAL RWY 12 - VIEW


STARS
KAYOH FOUR - VIEW
KEFFR ONE (RNAV) - 1 / 2
TANDY THREE - VIEW
Long Beach Crewbase Roster
| Callsign | First Name | Last Name | Company Hours | Rank | Total Flights | Country | Status |
| --- | --- | --- | --- | --- | --- | --- | --- |
| JBU334 | Nuno | Santos | 512.17 | Category IV | 161 | | |
| JBU1127 | Tommy | Fortunato | 187.37 | Category III | 79 | | |
| JBU1415 | Tyreese | Watson | 2627.05 | Category IV | 1173 | | |
| JBU1581 | Adam | Gomez | 232.23 | Category IV | 61 | | |
| JBU1609 | Martin | Pereira | 7.33 | Category I | 4 | | |
| JBU1698 | David | Kurth | 169.49 | Category III | 45 | | |
| JBU1703 | Jhayman | Myles | 271.47 | Category IV | 64 | | |
| JBU1764 | Ralph | Harrington | 41.27 | Category II | 30 | | |
| JBU1987 | Malik | Brown | 426.27 | Category IV | 155 | | |
| JBU2018 | Bertrand-Charles | Iungo-Laffont | 198.59 | Category III | 58 | | |
| JBU2120 | Britton | Heaps | 85.12 | Category II | 26 | | |
| JBU2528 | Aaron | Burno | 263.03 | Category IV | 59 | | |
| JBU2571 | Enrico | Noia | 74.10 | Category II | 32 | | |
| JBU2690 | Hussein | Ferman | 155.43 | Category III | 37 | | |
| JBU2889 | Nick | Grewal | 153.37 | Category III | 86 | | |
| JBU3207 | Matthew | Gardner | 4.34 | Category I | 5 | | |
| JBU3372 | Kyle | Weier | 34.32 | Category II | 4 | | |
| JBU3536 | David | Jimenez | 66.43 | Category II | 17 | | |
| JBU3599 | Alexander | Rideout | 86.03 | Category II | 26 | | |
| JBU3667 | Peyton | Vali | 33.06 | Category II | 4 | | |
| JBU3769 | Sean | King | 41.12 | Category II | 3 | | |
| JBU3784 | Jackson | Page | 6.58 | Category I | 4 | | |
| JBU3786 | Mike | Eldridge | 47.50 | Category II | 7 | | |
| JBU3804 | Jerad | Burns | 0.00 | Category I | 0 | | |
| JBU3846 | Spencer | Hoefer | 6.27 | Category I | 2 | | |
| JBU3866 | Aaron | Fankhauser | 0.00 | Category I | 0 | | |
| JBU3878 | Brant | Marshall | 2.04 | Category I | 2 | | |
| JBU3887 | Trystan | Bates | 30.00 | Category II | 0 | | |
| JBU3891 | Marquis | Wheelington | 0.00 | Category I | 0 | | |
| JBU3898 | Timothy | Mackey | 8.47 | Category I | 4 | | |
| JBU3903 | Jason | Jones | 30.00 | Category II | 0 | | |
| JBU3909 | Sionne | Taylor | 0.47 | Category I | 1 | | |